Rytro is located on the main tourist route of Beskid Sądecki, in a beautiful gorge section of the Poprad Valley. From the west the town is surrounded with the afforested range of Radziejowa, and from the east with the Jaworzyna range.
ADVENTURE PARK ABlandia – RYTRO (www.ABlandia.pl)
All tourists looking for a thrilling experience should visit the ABlandia Adventure Park in Rytro. Fastened to a safety rope you can walk on lines suspended from a few to over ten meters above the ground. This gives a great adrenaline injection, and demands some strength, skill and power, but offers at the same time unparalleled satisfaction and great fun. Playing in the park is an excellent idea for spending time in the fresh air, for children, youngsters and adults. The design solutions used in the adventure park also enable people with lower than average physical fitness to do the route from start to finish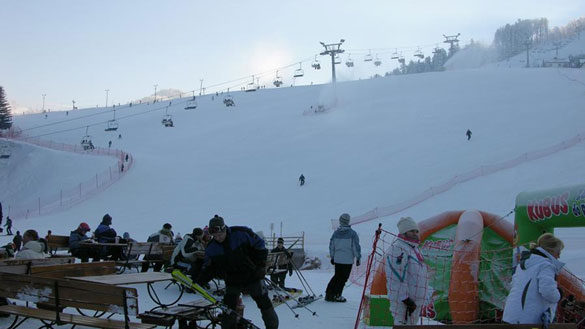 "Ryterski Raj" Ski Station
Features offered: four-seat chair lift with a conveyor (700 m long, 200 m difference in level, able to carry 2000 people/hour), ski lift for beginner skiers (350 m long, 70 m difference in level), carpet lift for children (easy, low-inclined slope with a SunKid moving carpet), ski runs with snowmaking machines, artificial illumination, and a 2 km long loop for cross-country skiing.
To tylko niektóre atrakcje jakie może Państwu zaproponować Beskid Sądecki, dlatego warto tu przyjechać i osobiście sprawdzić jak wiele niespodzianek kryje w sobie ta piękna kraina!